Cloud ERP with CRM, merchandise management & financial accounting
weclapp is the ERP-platform for teams. Whether CRM, merchandise management or accounting: With weclapp, teams jointly control all important business processes in just one software.
One software to manage your entire business.
The old way: individual solutions from different vendors. Complex and expensive.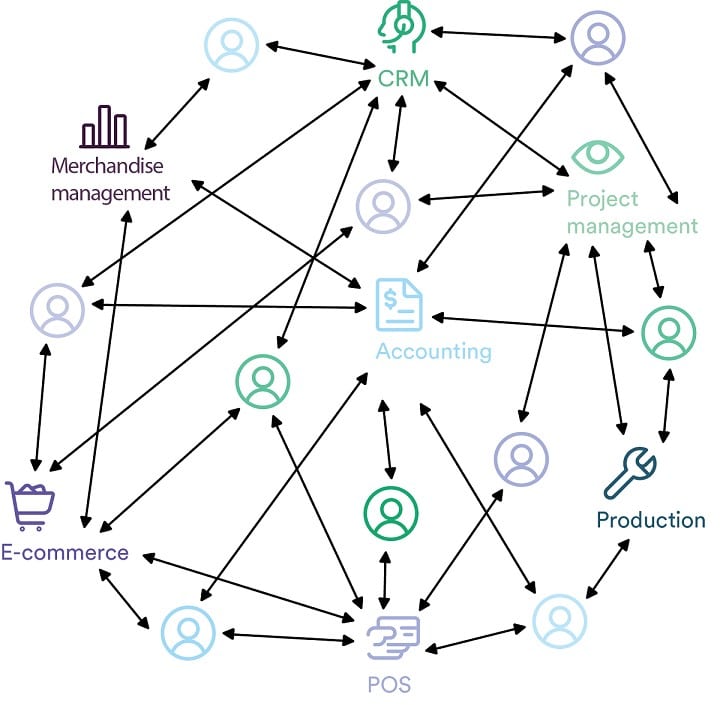 The new way: All-in-one solution from weclapp. Simple and inexpensive.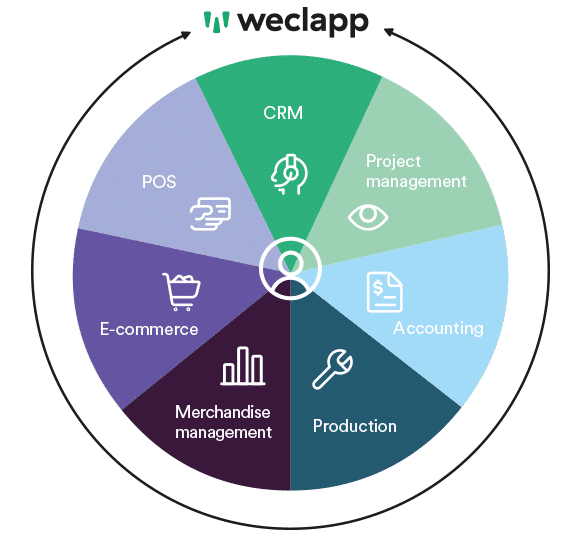 The new way: All-in-one solution from weclapp. Simple and inexpensive.
Complete packages for your needs.
For (still) smaller teams looking to get started.
✔ Contact management
✔ 360 degree customer file
✔ Tasks & Calendar
✔ Email automation
✔ Telephone linking (CTI)
✔ Opportunities & Campaigns.
For consulting, agency, IT consulting, etc. teams.
✔ Bids & Orders
✔ Project management
✔ Time recording Invoices
✔ Project order
✔ Financial accounting & banking
For ecommerce teams, manufacturing, systems vendors, etc.
✔ Material management system
✔ Planning & purchasing
✔ Inventory Management
✔ Serial & Lot Numbers
✔ Production
✔ Linking Shops
✔ Amazon, eBay & kaufland.de
Multi-certified and multi-awarded
weclapp - also suitable for your industry!
Clever companies from many industries successfully use weclapp to manage their business efficiently. The cloud-based CRM & ERP software covers all important business areas of different industries and combines them in a modern, user-friendly application. Due to the easy scaling, the solution is suitable for startups on a growth course as well as for small and medium-sized enterprises.
Germany's 1st cloud ERP with TÜV-certified privacy protection and data security
Your team in good company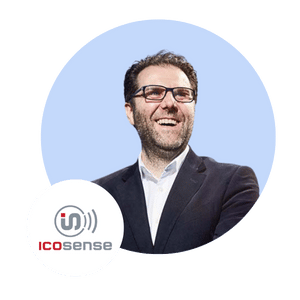 Manfred Ausserbichler
Managing Director IcoSense
The usability is excellent. Once you know the application, you get along with every module within the solution.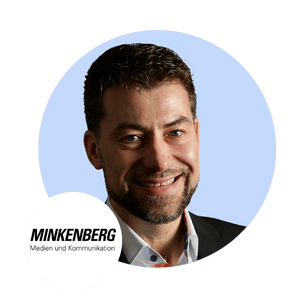 Elmar Bransch
Managing Director Minkenberg Medien
Already in the free trial version, we noticed that everything in this system was solved thoughtfully.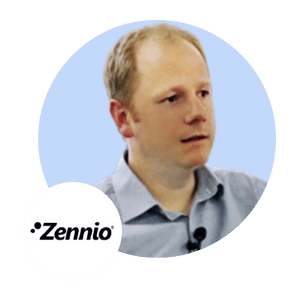 Thomas Assmann
Managing Director Zennio
I was convinced by the idea of a solution that integrates ERP and CRM, that way you work in one system.
❤️ Why our customers love weclapp
Up to 80% increase in productivity
Up to 20% improved processes thanks to complete workflow
Up to 50% cost savings through automation
Up to 840 hours saved in order execution
❤️ Why you will love weclapp too
1. Risk-free startup and simple introduction
The quick start-up and simple introduction will surprise you. With weclapp, you can start right away – forget about long introduction times or large initial investments! With weclapp, there are no implementation or maintenance costs.
2. All-in-One – everything in one software
weclapp is useful in all areas of business: CRM, merchandise management system, accounting and invoicing program. The use of a single solution guarantees considerable time and cost savings and greater transparency.
3. Intuitive operation
weclapp impresses with its overview and modern user interface: intuitive and easy to use! The online help and user tips make it easy to work with the software.
4. Software Made in Germany
weclapp is a German company based in Marburg. All data is stored in Germany in accordance with the strict German data protection regulations. The data center in Frankfurt is multi-certified (e.g. ISO 27001).
5. Modern technology platform
Many so-called cloud ERP systems from reputable vendors are actually old systems, built on outdated technology, but offered in a cloud version. weclapp is different. Our platform was developed entirely on the cloud. This means that we can adapt it at any time, depending on the customer's needs.
| Reasons | Classical ERP | weclapp |
| --- | --- | --- |
| 1. Risk-free startup and simple introduction The quick start-up and simple introduction will surprise you. With weclapp, you can start right away - forget about long introduction times or large initial investments! With weclapp, there are no implementation or maintenance costs. | | |
| 2. All-in-One - everything in one software weclapp is useful in all areas of business: CRM, merchandise management system, accounting and invoicing program. The use of a single solution guarantees considerable time and cost savings and greater transparency. | | |
| 3. Intuitive operation weclapp impresses with its overview and modern user interface: intuitive and easy to use! The online help and user tips make it easy to work with the software. | | |
| 4. Software Made in Germany weclapp is a German company based in Marburg. All data is stored in Germany in accordance with the strict German data protection regulations. The data center in Frankfurt is multi-certified (e.g. ISO 27001). | | |
| 5. Modern technology platform Many so-called cloud ERP systems from reputable vendors are actually old systems, built on outdated technology, but offered in a cloud version. weclapp is different. Our platform was developed entirely on the cloud. This means that we can adapt it at any time, depending on the customer's needs. | | |